LeadMaster CRM is a complete suite of tools that allow businesses to manage sales leads more efficiently and helps them automate their marketing processes. Its' lead capturing, nurturing and conversion features are easy to deploy, learn and use and can adapt to varying business requirements. Being a cloud-based and customizable solution, LeadMaster CRM can be accessed from anywhere and allows users to only enable the features they need and add more when required in future.
The easy-to-use CRM helps businesses convert leads into sales by its lead management tools, while marketing automation tools offer features including email marketing, web integration, lead nurturing, automated business rules and landing pares. The CRM can be integrated with hundreds of other systems via Zapier, and also supports integrations with Encompass, MindBody and QuickBooks.
LeadMaster's all-in-one lead management system is competitively priced, scalable and offers powerful features that can be learnt quickly. This means users get started quickly and start managing leads more effectively in less time. In addition to being a CRM, the AIO solution also offers lead management, analytics, email marketing and more features that allow sales and marketing teams to deliver better results. The software allows users to track leads through the entire sales cycle and brings sales and marketing together. The CRM allows teams to concentrate their efforts on sales instead of spending most of their time on routine processes such as data entry and management and learning new systems.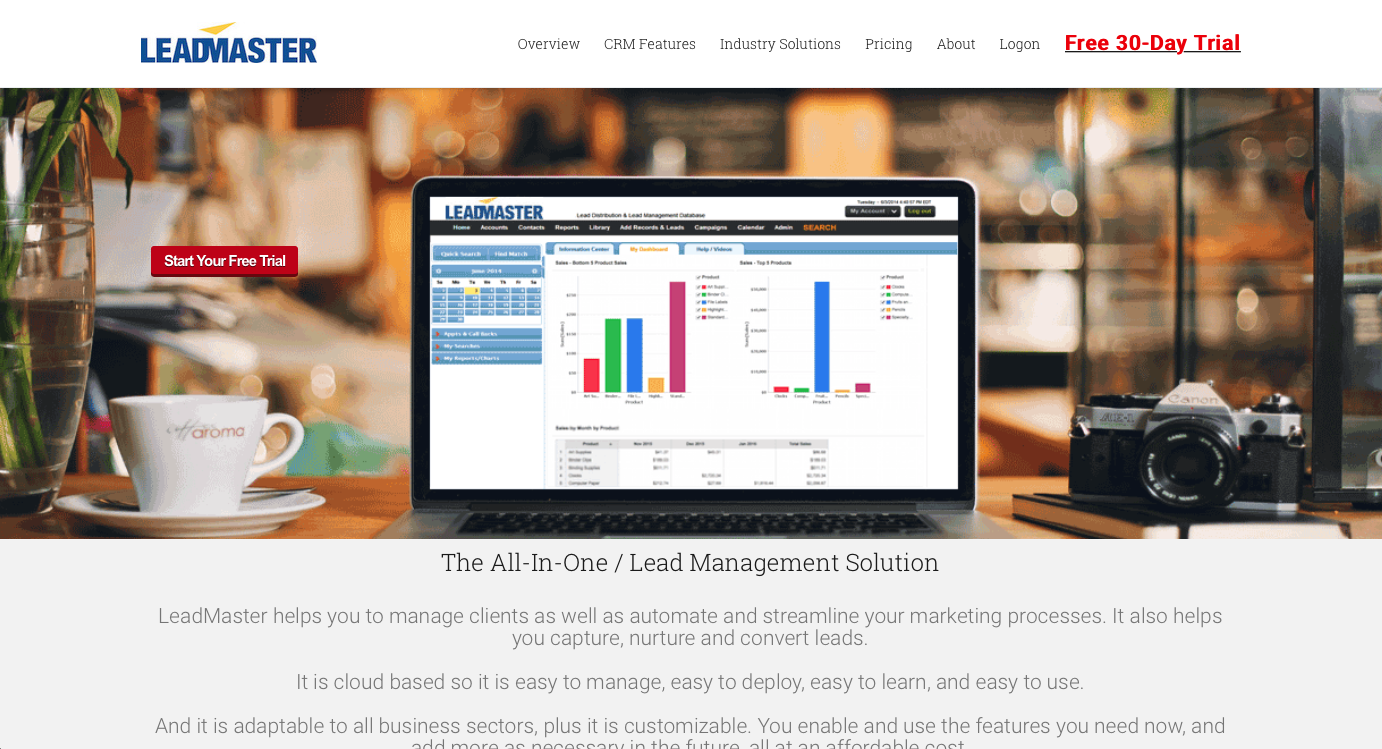 The ability to automate processes allows businesses to move leads quickly through the sales funnel and get results in less time. Teams can access the information from anywhere and are not restricted by location as the data is stored in the cloud. The AIO system allows capturing, qualifying, tracking and nurturing sales leads from a single hub. The Android and iOS apps extent functionality and allow users to stay productive wherever they are. Leads can be captured using different sources, including email and other online sources, while the system allows prioritizing leads and makes it easier for teams to focus on what's more important. Contact management is easy and the software puts everything at users' fingertips. Powerful reporting tools help businesses plan for the future in a better way and provide deep insights into what's working and what needs to be improved.
Pricing:
Small business: $150/month
Professional: $250/month
Organization: $500/month

Features:
Customizable functionality

Lead age tracking

Marketing automation

Call center features

Calendar reminders

CRM

Cloud call center & click-to-call integration

Automated dispositions

Case history

Sales quotas

Lead analytics

Sales management

Sales team hierarchy

Individualized dashboards

Mobile & tablet access

Mass emails

Email bounce manager