LeadFox is a lead generation and marketing automation software that is created to accelerate the deployment and fully optimize all your marketing efforts, from email marketing strategies, landing pages, advertisements, banners, A/B testing, pop-ups and more. With its robust, integrated software, users are able to effortlessly increate the volume of new leads as well as prospects in their database.
Flaunting an extensive marketing automation and lead management tools and functionalities, LeadFox helps businesses transform leads and prospects into paying customers and forge strong and fruitful customer relationships. This results in long partnerships that help drive business revenue and enhance growth. LeadFox works well with many eCommerce and CRM platforms, including Shopify, Zoho, Magento, and Salesforce to mention a few and is implemented in more than 50 countries.
LeadFox is designed and create to help business increase the amount of highly qualified leads and prospects and improve the quality and reach of your marketing tactics via powerful marketing automation capabilities and tools. The software comes with a configurable and user-friendly WYSIWYG and drag & drop landing page generator, helping you create professional looking landing pages that mesh well with your WordPress websites. There is no need for deep technical knowledge to build and deploy landing pages that work. LeadFox users will definitely love how they can easily create pop-ups and banners and then deploy them on their sites or blogs right after.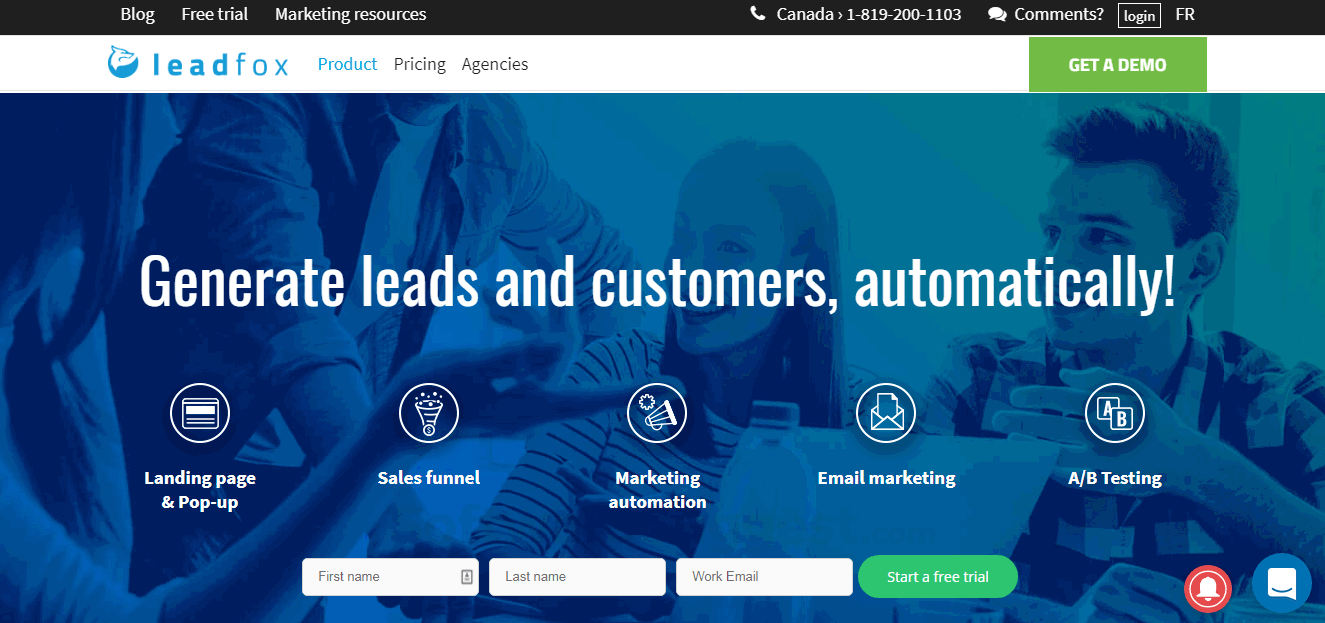 Leads that are generated via banners and pop-ups are instantly captured and processed with the system's integrated CRM, saving you time that you would have required to transfer data different software and systems. The integrated forms and CRM enable you to centralize all your data, store them in a unified location to further streamline all your marketing efforts. Drag and drop email campaign manager simplifies the way you devise and execute your email campaigns. This functionality allows you to fully tailor your campaigns to ensure massive reach and huge returns. LeadFox lets you automate your marketing campaigns and efforts as well as schedule them in advance or set triggers once specific conditions are satisfied. Whether its popups, banners, landing pages or emails, LeadFox takes care and controls them so you don't have to.
Pricing:
Fennec: $49.95/month
Arctic: $99.95/month
Red: $199.95/month

Features:
CRM integration

Forms management

Lead capture

Permission management

Real time analytics

Real time reporting

Referral tracking

Template management

Third party integration

Activity dashboard

Drag & drop interface

Custom landing pages

Testing management

A/B testing

API

Landing page templates

Lead assignment

WYSIWYG editor

Click-through tracking

Referral source tracking