Accounting software FreeAgent is a powerful online tool that is designed for use by small businesses and freelancers. It is feature-rich, offering small companies all that they need to keep their finances on track. It hosts a suite of tools that are meant to help users manage all aspects their financial operations–from running payrolls to managing expenses.
With the platform, you can both send and track invoices that are created by the system itself. Expenses can likewise be easily monitored using the tool, all you have to do is take a photo of your receipt using your phone and upload it to the system. FreeAgent has a built-in stopwatch and timesheets that can be used to keep time records. Cashflows can also be monitored with ease as the system dashboard makes them readily viewable along with due tax bills.
What's more is that FreeAgent can be linked to bank accounts so that transactions may be imported into the system automatically. Using the software, finance officers get to be always on top of their operations as they are provided with an overview of their organization's income, expenses, profitability and receivables. Users also get to know how much tax they owe and even file their own VAT, RTI and Self Assessment returns.FreeAgent has 26 integrations, including Paypal, Stripe, Receipt Bank and Zapier, which can link the system to over 750 add-ons. Currently, FreeAgent has more than 60,000 customers worldwide who describe it as an easy and efficient system to manage their books and invoicing.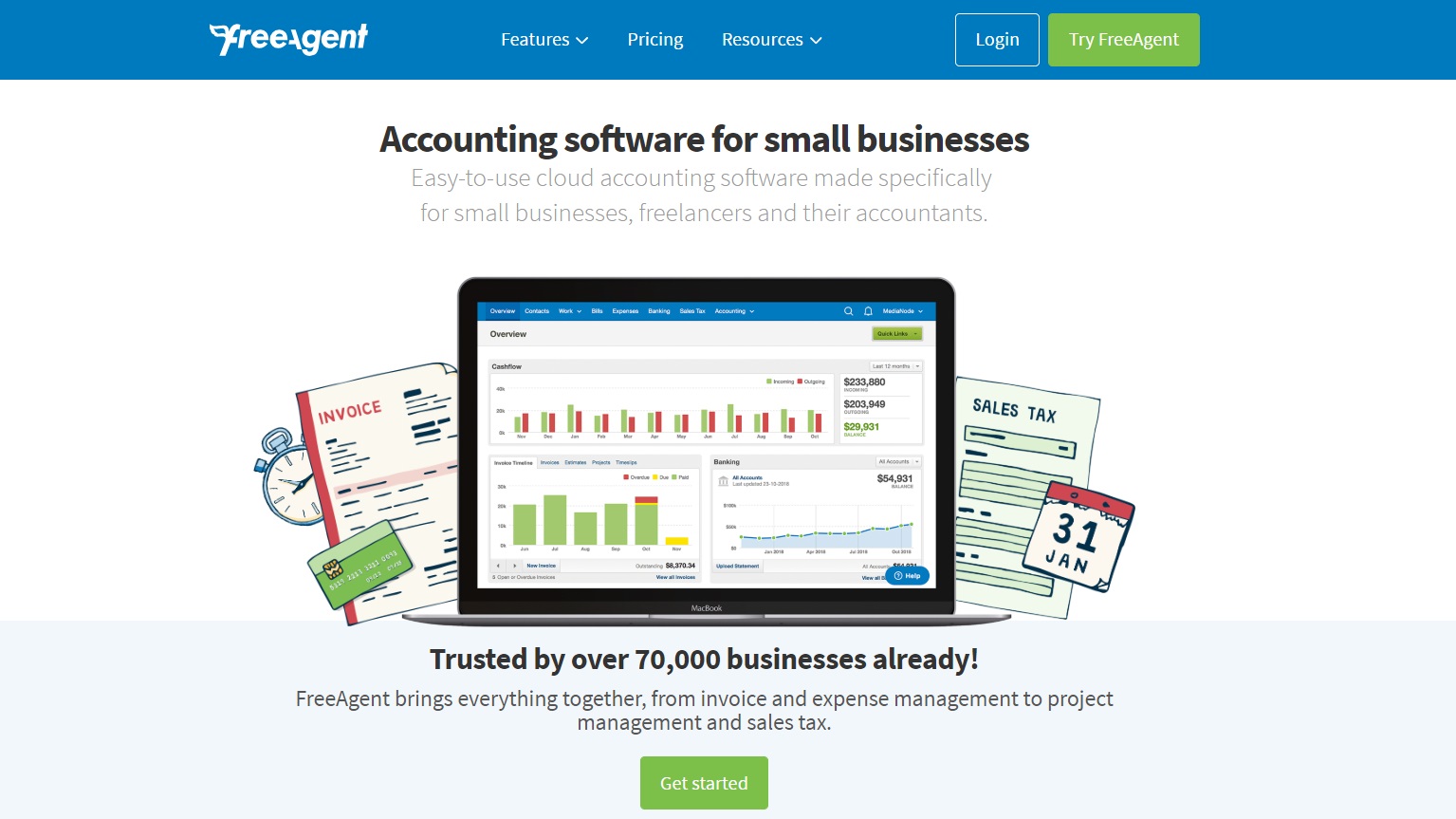 As simple and basic as it seems, FreeAgent keeps professionals on top of their cash flow, automates a large part of their payment operations, and helps them understand the effect of their business transactions. Connectivity is another of FreeAgent's advantages, as you can associate it with all of your bank accounts, or move numbers in and out of its seamless 3rd party integrations with few clicks. Instead, you can insert transactions manually, and arrange taxes on appropriate levels in order to make operations more company-specific. Overall, customizing FreeAgent can be challenging for novice users, but it becomes a real ace up the sleeve once you've got a hold on it. The best part is that there are almost no limitations to how you will track mileage, as FreeAgent's usefulness can always be extended with free add-ons.
Pricing:
Universal Plan – US $20 /month
Features:
Send estimates as well as proposals
Beautiful invoice templates
Customize invoices
Send recurring Invoices
Automated bank feeds
Give profit and loss statements
Do time tracking
Expense tracking and management
Timesheet reporting
PayPal